| | |
| --- | --- |
| | The article's content has been moved from that said wiki as there is no GoAnimate-related content since the last two weeks. Make sure the imported page must be followed with the article's Manual of Style -- otherwise, please fix it. |
Why is there very little information?

This article (Kevin, Stuart and Bob) is a stub. You can help The FanonLand Wiki by expanding it. To do that, please click the "Edit" button and expand it as much as you possibly can. Thank you very much.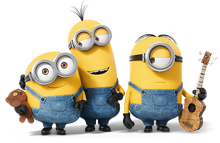 Kevin, Stuart and Bob are the minions from Minions.
Kevin loves to make fun of and tease people or Minions, shown when he made fun of Jerry and teases him for being a coward. He loves playing golf and cricket. In the film Minions he is the leader of the trio in search of a new master. He truly cares about the well-being of the Minion tribe (which is dependent on them having a proper master).
Stuart is playful, friendly, intelligent and funny. He is skillful at video games like his friend Dave. He can also be the most sincere and innocent out of all the minions. He seems to have a rebellious attitude too. He's considered to be a slacker among the other Minions, preferring to chill out and play the ukulele than listen to the rules. Also, he was said to be always hungry in Minions, such as when he attempted to eat Kevin and Bob when he was thinking of them as bananas, and even tried to eat a yellow fire hydrant in New York, also thinking it as a banana or food as well.
Bob is a minion who is more childish and immature than most. He is described as a "Little Brother" who finds love in anything and everything, including a rat (who he named Poochi) he found in a sewer in the Minions film. He also enjoys bedtime stories and playing with his favorite stuffed teddy bear, Tim.
Ad blocker interference detected!
Wikia is a free-to-use site that makes money from advertising. We have a modified experience for viewers using ad blockers

Wikia is not accessible if you've made further modifications. Remove the custom ad blocker rule(s) and the page will load as expected.